Samaritans bid to tackle rising NI suicide rates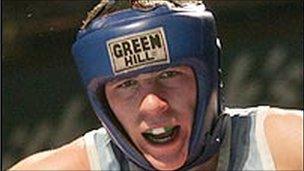 A campaign has been launched by the Samaritans to highlight the increasing rate of suicide among young men.
There has been an increase in the number of people taking their own lives in west Belfast where last week three people died in three days.
Irish super-heavyweight boxing champion Cathal McMonagle is helping to launch the initiative which tackles the myth that it is weak to ask for help.
He said talking about problems could ease burdens and perhaps save lives.
"it is alarming, the rate of suicide. It's shocking and if anything can be done at all, it should be," Mr McMonagle said.
"It's not unmanly to talk about your problems because if you ease the burden, if you unload the burden a bit, it can save your life at the end of the day."
Alan Heron from the Samaritans said they hoped the campaign "would encourage young men to feel that it's not weak to talk about their problems".
"In fact that it's strong to lift the phone or to speak to someone who will listen to them," he said.
Irish middle-weight boxing champion, John Duddy is also supporting the initiative along with Mr McMonagle.
Mr Heron said he hoped these men would act as "strong role models" for young men.
"What we're looking to do is to place it in young lad's minds that it's ok to talk," he said.
"If these strong tough men can talk about their feelings, then so can you."
Related Internet Links
The BBC is not responsible for the content of external sites.