French strike strands around 300 Derry holiday-makers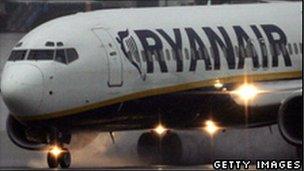 Around 300 holiday-makers have been stranded after some flights to and from City of Derry Airport were cancelled.
A strike by air traffic controllers in France led to the cancellations on Thursday.
Ryanair cancelled four flights to and from Faro in Portugal and Alicante in Spain.
Passengers, who were due to travel on those flights, have been advised to check with the airlines.
Airport manager Damien Tierney said flights throughout Europe had been affected by the strike.
"There are about 300, who have gone out on holiday and are now on their way back, and we have a few outbound passengers, Spanish and Portuguese nationals, who're in this part of the world, heading back home," he said.
"Ryanair have set up procedures, whereby they can either pay them a refund, or book them on the next available flight.
"I know they have put on some additional flights between Spain and Portugal and Ireland over the coming weekend, but I don't think they'll be able to fly into City of Derry, because I don't think we have any other flights available."