100 years young: Archie Holmes' recipe for a long life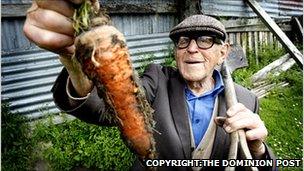 Irish man Archie Holmes turned 100-years-old on Wednesday and is making headlines in his adopted home of Wellington, New Zealand.
Archie puts his longevity down to three things: gardening, singing and "eating a fair bit of chocolate".
However, it is Archie's love of singing that gets him the most attention in the land of kiwis and hobbits.
Arriving in New Zealand from County Laois in 1957, he settled in Wellington.
He has long been a member of the Wellington Irish Society and frequently breaks into song.
Archie's stepson Denis Davis marvels at the centenarian's ability to remember the words to hundreds of Irish tunes, including Danny Boy and The Hills of Donegal.
He told the Wellington newspaper, the Dominion: "He just starts singing and you cannot shut him up. He is just brilliant."
After interviewing him about his milestone birthday, the Dominion recorded Archie singing Danny Boy and posted the clip on its website for all the world to hear.
He lives in an old wooden cottage in the suburb of Berhampore, where he farms a vegetable garden the size of his backyard.
Archie claims he has not bought a single vegetable since arriving in the country 53 years ago because he grows his own including potatoes, carrots and broccoli.
He attributes his green-thumbed success to his own compost recipe which he makes out of blood, bone and potash.
Archie said he is looking forward to his 100th birthday celebrations at the Irish club on Saturday where he expects to enjoy a "big hooley".
Related Internet Links
The BBC is not responsible for the content of external sites.