No contempt charge for Environment Minister Poots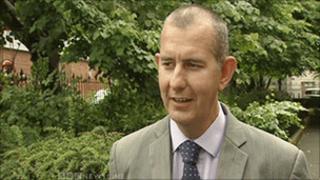 The Attorney General is to take no action over comments made by the environment mnister over the John Lewis planning application.
A judge had asked the Attorney General to consider remarks made by Edwin Poots on BBC Radio Ulster.
Mr Poots said it was 'outrageous' for courts to allow judicial reviews when it was one commercial interest competing against another.
The judge said the remarks could amount to 'bias and pre-determination'.
In a statement issued on Thursday, the Attorney General's office confirmed that a decision had been taken "not to make an application under the contempt of court in respect of Mr Poot's remarks".
In early October businesses opposed to the 500,000 sq ft retail scheme at Sprucefield had been granted leave to seek a judicial review over claims that a proper assessment was not carried out on the impact a development would have on badgers, bats and newts.
Mr Poots told the BBC's Nolan Show that the actions of those involved in the litigation were "despicable and disgraceful" and "intolerable".
'Bias'
Lord Justice Girvan ruled that there was an arguable case that the minister's remarks amounted to "bias and pre-determination".
He said that Mr Poots should neither have been invited onto the programme nor accepted the invitation.
He said: "The role of each of these parties should be considered by the Attorney General."
Mr Poots said he would refute any claim of apparent bias against him, and had checked with departmental advisers about whether his previous associations could in any way undermine the proper processing of the application.
At the time Lord Justice Girvan said as a consequence of what had happened the public inquiry into the John Lewis planning application had been postponed until the case was resolved.
"The whole situation can only be described as lamentable," he said.