Two helicopter crash scenes under investigation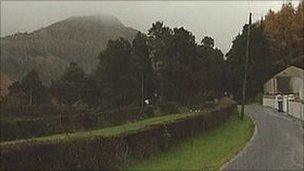 A recovery operation is continuing in the Mourne Mountains following the second helicopter crash in a week.
A police helicopter overturned on take-off on Shanlieve Mountain on Thursday close to the scene of the first accident in which three people died.
Four officers investigating that crash on Saturday were airlifted out but were not seriously injured.
Officials are now investigating two aircraft crash scenes in close proximity.
Ed Kilgore, chairman of the Mourne Mountain Rescue Team, said: "The whole thing has to start all over again.
"The accident recovery people will need to go in because we now have a new accident scene and they will have to try to discover exactly what went wrong, what happened on this occasion, and they are still going to have to take parts from the other aircraft.
"The normal thing is remove the air-frame for testing. It is normally taken away to be re-built, as far as possible, to let them know exactly what happened, so there are now two aircraft crash scenes very close to each other."
He said his members would probably not be involved in the clearing-up operation "unless they were called in to transport people to and from the scene.
As well as the pilot, a photographer, an observer and an officer from the police emergency team were onboard the police helicopter.
Bad weather had prevented the men being taken off the mountain for treatment, but while awaiting transport, they were cared for in tents pitched after the first crash on the mountainside near Hilltown, County Down.
Three people were killed in Saturday's crash in an area known locally as Leitrim Lodge, between Hilltown and Rostrevor.