Outreach bus for suicide area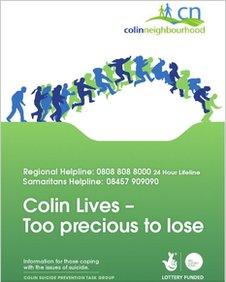 A community group is to set up an outreach service to help address concerns about the number of recent suicides in West Belfast.
The Colin Health for All Suicide Prevention Task Group met on Tuesday.
The South Eastern Education and Library Board's (SEELB) Outreach bus will be in the Colin area Friday-Sunday.
The bus will be parked on Stewartstown Road and is manned by youth workers, community workers and those skilled in suicide prevention.
Anyone can call to the bus for advice and support on the issue of suicide. The Outreach bus will be at the site on 29-31 October from 2000 BST until 0200 BST each evening.
Annie Armstrong from Colin Neighbourhood Partnership and Co-Chair of the Task Group said: "This is a valuable resource for the Colin community. We urge young people to take advantage of this service that the Colin Task Group has put in place for the people of Colin.
"Every effort is being made to support the vulnerable in our community who need advice on this issue. We would also like to alert people to the Lifeline helpline service which is also set up to provide support to those in distress."
"I would encourage anyone who is in despair or crisis themselves or even has concerns about a son, daughter or friend to avail of this free confidential support service.
You can contact the service either by calling Lifeline's telephone number on 0808 808 8000."
Kevin Bailey, South Eastern Trust Suicide Prevention Coordinator and Joint Chair of the Task group said,
"I would appeal to anyone who needs to talk to someone to access this support service. Trained professionals are available to provide advice, emotional support or just a listening ear.
"Our aim is to ensure that help is available where it is needed. If you have specific concerns about a member of your family please contact your family doctor or phone Lifeline on 0800 808 8000."
A Colin Neighbourhood Partnership booklet on suicide prevention is also available here.
The Outreach bus will be parked at the BP petrol station on the Stewartstown Road and will be open Friday 29 October - Sunday 31 October from 2000 BST to 0200 BST.
Related Internet Links
The BBC is not responsible for the content of external sites.