Surgeon in warning over 'horrific' firework injuries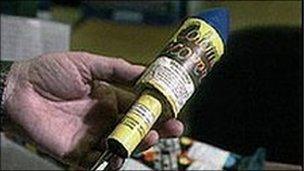 A surgeon in the Ulster Hospital has said he has already treated 12 teenagers with horrific injuries caused by fireworks.
Alistair Brown is a consultant plastic surgeon at the hospital and said people are taking huge risks.
"Unfortunately we've had quite a steep rise over the past fortnight, in young men around 16 and 17 years old.
"They are quite horrific injuries we are seeing where they are losing part of their hands," he said.
"We have seen some children losing all of their digits in some cases -and this impacts on their life.
"Socially they can't take part in their hobbies, or play sport and it impacts on the jobs they can do as they get older, its something they all grow to regret."
Mr Brown said he has treated 12 people for fireworks injuries in the last few weeks, normally it is about two patients.
He said most people come in to see him with hand and face injuries and many people lose their fingers.
"You are still seeing patients years down the line, they really do live to regret it as they realise how impaired they are."
According to the Newry Democrat several teenagers are gambling with their lives by playing Russian roulette with fireworks.
The paper said that teenagers are passing around a lit firework.
According to the paper, the 16-year-old was rushed to Daisy Hill Hospital where he was treated for his injuries before being taken to Dundonald Hospital for three days.