Theatre chief looks to future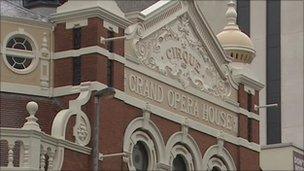 The Grand Opera House in Belfast says there are challenging times ahead for arts funding and, although it has had to make some staff redundant in recent months, it is celebrating a new beginning. BBC NI Arts Correspondent Maggie Taggart reports...
After a year's gap, when it lost 50% of its sponsorship funding, it now has a commercial sponsor.
The company is to work with the theatre for at least two years.
The recently appointed chief executive of the theatre, Michael Ockwell, said: "It's been a difficult time and we had a shortfall of 50% in sponsorship funding.
"We had to look at our internal costs and make really difficult decisions."
The Opera House made 17 staff redundant in the summer months.
However, this is a new beginning with a new logo and a new season brochure.
Shows for the Spring include the Donmar Warehouse production of "King Lear", starring Derek Jacobi and "Hurricane", the award-winning dramatisation of the life of snooker star, Alex Higgins.
The Grand Opera House's new sponsor, Emo Oil, said it will be encouraging staff and customers to go to shows.
The company's managing director, Pat O'Neill, said the funding "is part of our continued commitment to the community.
"We are giving a substantial sum but I prefer not to declare how much."
The company is committed to a two year partnership, with an option to extend it after that.