Governor vacancy latest headache for Maghaberry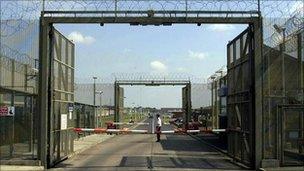 Prison authorities are facing another crisis at the high security Maghaberry jail after failing to attract a suitable candidate to become governor.
On paper, it's one of the most attractive jobs of its type within the British prison system, with a maximum salary of just over £80,000 a year.
However, a recent recruitment process ended with a decision not to appoint any of those who applied.
An interim governor was appointed to run Maghaberry earlier this year.
That followed the departure of Steve Rodford, who left the post after just six months, citing personal reasons.
It's known that Mr Rodford was warned that he was under threat from dissident republicans.
I understand the prison authorities suspect the combination of Mr Rodford's experience, a series of highly critical reports and ongoing tensions between prison staff and dissident republicans at Maghaberry, deterred many suitable candidates from other UK prisons applying for the position.
The BBC has learned that the interim governor at the prison, Patrick Maguire, didn't apply for the job on a permanent basis.
The Department of Justice and prison authorities are now in discussions about the way forward and say they hope to appoint a new governor in the near future.
Mr Maguire will continue to act as interim governor until a permanent appointment is made.
The prison service is also in the process of appointing a new Director General to replace Robin Masefield, who will step down before the end of the year.
The successful candidate will earn an annual salary of up to 160 thousand pounds. Applications for the job close next Friday, 5 November.