Number of rapes increases by 10% in six months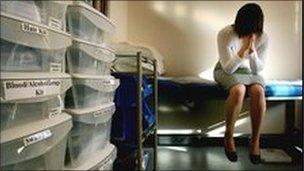 There has been a rise in the number of recorded rapes and attempted rapes across Northern Ireland.
From April to September of this year there were 261 cases - a rise of 10% on the same period last year.
The police, in partnership with the Department of Health and Department of Justice, has re-launched the Be SMART anti-rape campaign.
The campaign will see advertisements placed in entertainment venues and colleges across Northern Ireland.
"If the figures continue to increase for the next six months we will be looking at the largest number of recorded rape offences within recent years," Detective Chief Inspector Don Glass said.
"We, as a police service, want this campaign to encourage people to make more informed, responsible and healthy decisions about their alcohol intake and also to think about the possible harmful consequences of impaired judgement."
He added: "Sex without consent is rape and the consequences for being convicted can have a devastating effect on both the victim and accused.
"It is something that sadly the victim will have to live with for the rest of their life and it is likely that the accused will spend a very long time behind bars."