100 civilian staff at PSNI stations to review security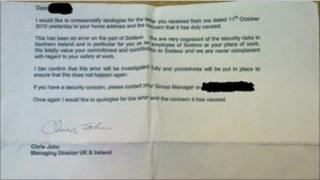 More than 100 civilian workers at police stations in Northern Ireland have been told to review their personal security.
The advice was issued after they received work-related correspondence with the name of their PSNI station on the envelope.
Some of the workers are concerned that their details could fall into the hands of dissident republicans.
The staff work at several stations across Northern Ireland.
Sodexo, the company which employs the civilian workers, has apologised.
The staff received a letter from the managing director of Sodexo UK & Ireland Chris John which said the company was "cognisant" of the security risk in Northern Ireland and was never complacent with regard to employees' safety.
He also confirmed that the error was being fully investigated and that procedures will be put in place to ensure it does not happen again.
Unreserved apology
In a statement issued to the BBC on Friday, Sodexo said: "This happened two weeks ago and an investigation is underway.
"We have met with our client the PSNI, who is fully aware of the situation, and we will report back to the client in full.
"Procedures will be put in place to ensure that this does not happen again.
"The safety and well-being of our employees is of paramount importance to us and we immediately contacted or spoke to the individuals concerned and apologised unreservedly for the error."
Since the error, those involved have been given a security briefing by the police on how to improve their personal safety.
Meanwhile on Friday, DUP MLA and Policing Board member Jimmy Spratt said that "this is a very serious breach of security especially given the current threat from dissident republicans".
Mr Spratt said: "It is my view that if any of these civilian workers have to move home as a result of this, that any costs incurred will be met by Sodexo and not the taxpayer.
"However, I sincerely hope this will not be necessary."
During the Troubles, civilian workers were targeted by the Provisional IRA and more recently dissident republicans have warned that they see anyone who works at a police station as a 'legitimate target'.