Prison governor job is "not attractive"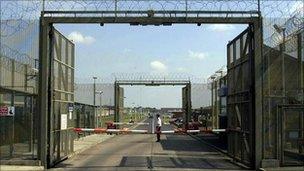 The chair of the justice committee has said a "litany of problems" within the prison service is putting people off from applying for the job as governor of Maghaberry prison.
Northern Ireland's high security jail Maghaberry has so far failed to find a suitable candidate for the role.
Justice chair Lord Morrow said it was difficult to attract the right candidate for such a challenging job.
"We need a shift in culture for the job to become more appealing," he said.
"Prison staff are not receiving the support they need so the job is less attractive."
"We have a situation developed where the government have again conceded a litany of concessions to prisoners," Lord Morrow added.
"If I was applying for the job I would be asking myself is the governor running this prison or the inmates.
"It's clear we need to give frontline prison staff more support.
"Prisoners rights are looked after but those working in the prison are at the bottom of the pile."
On paper, the governor's job at Maghaberry is one of the most attractive jobs of its type within the British prison system, with a maximum salary of just over £80,000 a year.
However, a recent recruitment process ended with a decision not to appoint any of those who applied.
Lord Morrow said he thought the justice minister could help by supporting prison services staff.
The Department of Justice and the prison service are now in discussions about the way forward and say they hope to appoint a new governor in the near future.
An interim governor was appointed to run Maghaberry earlier this year.
That followed the departure of Steve Rodford, who left the post after just six months, citing personal reasons.
It is known that Mr Rodford was warned that he was under threat from dissident republicans.
The prison service is also in the process of appointing a new director general to replace Robin Masefield, who will step down before the end of the year.
The successful candidate will earn an annual salary of up to £160,000. Applications for the job close next Friday, 5 November.