C.diff inquiry oral evidence draws to a close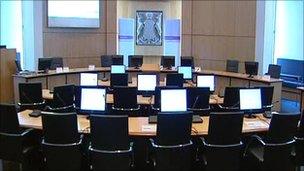 The hearing of oral evidence by the C.diff Public Inquiry Panel finished on Friday at Antrim's Civic Centre.
A total of 62 witnesses provided oral evidence to the Inquiry Panel since it began at the beginning of October.
Thirty-one people died as a result of the outbreak in the trust area between June 2007 and August 2008.
In closing the Oral Hearings phase of the inquiry, Chairman, Dame Deirdre Hine said she wanted to thank those who took part.
"I wish to thank all those who have given of their time, both in preparation for these hearings and in providing their evidence and to pay tribute to the courage and conviction of all the witnesses.
"I appreciate the efforts that have been involved and that for many, particularly those closely affected by the C.diff outbreak, that it has been a difficult undertaking.
"I am sorry that the inquiry itself may have reopened stressful and distressing memories for them. On behalf of the panel I offer our sincere condolences to the families of the bereaved," Dame Deirdre said.
"By listening to patients, relatives and staff affected by the outbreak and drawing on their experiences, we are now better placed to contribute to an understanding of the impact of hospital acquired infections and point to changes and improvements in which these can be lessened or ameliorated.
"The panel are grateful for the important insights and information which these hearings have provided us with," she added.
"The panel will retire to consider all the evidence both oral and written before reaching our findings and making recommendations. "
Related Internet Links
The BBC is not responsible for the content of external sites.