Ryanair ends Belfast City Airport flights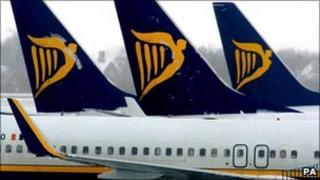 Ryanair is due to make its last flights out of Belfast after a row over delays to a proposed runway extension.
The airline announced in August it was pulling out of George Best Belfast City Airport after a public inquiry into the plans, which it supports, was delayed.
Ryanair has been operating from the airport since 2007 on five routes - London Stansted, Bristol, East Midlands, Prestwick and Liverpool.
Rival Flybe is starting services to Bristol, East Midlands and Liverpool.
Ryanair flew about 800,000 passengers a year to and from the airport.
Chief Executive Michael O'Leary said in August he was disappointed that the inquiry into the runway extension plans had still not gone ahead three years after Ryanair opened its Belfast City base.
He said if planning permission was granted in the future, then Ryanair would come back.
'Big loss'
Mr O'Leary claimed in August that Ryanair's withdrawal could come at a cost of 1,000 jobs, either at the airport or in the local tourism industry.
John Moore, from Northern Ireland's Chamber of Commerce and Industry, said the loss of Ryanair was a major blow.
He said: "It's a loss of revenue to the airport and probably a fairly extensive loss of jobs.
"More importantly, to the service sector of the city of Belfast it's going to mean a big loss, especially at a time of economic recession."
Belfast City Airport has wanted to build a runway extension for some time, which would have allowed Ryanair to fly to destinations further afield.
The length of the runway currently at the airport limits the type of aircraft that can land there.
The public inquiry was delayed until the airport provides further information on its plans, amid environmental, social and economic objections.