Man dies in car crash in Draperstown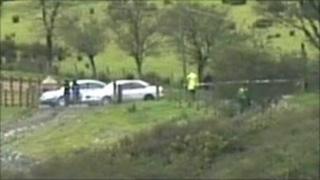 A 34-year-old man has died in a traffic accident in Draperstown, County Londonderry.
It happened on the Sixtowns Road at about 1130 GMT on Sunday morning.
No other vehicle was involved in the accident. It is believed the man who died was the driver.
A 21-year-old man was taken to hospital where his injuries are not believed to be life-threatening. Four other men, aged between 19 and 28, were treated at the scene for minor injuries and shock.
Motorists were asked to take an alternative route while the scene was examined.
Police have appealed for anyone who witnessed the crash to contact them.