Shock over teen's 12-month sentence for killing granddad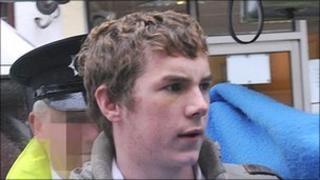 The chair of the Justice Committee at Stormont has criticised the 12 month sentence handed down to a teenager who killed his grandfather in a robbery.
Eamon Coyle was 16 when he strangled and stabbed his grandfather, Francis O'Neill, at his home in Omagh.
Lord Morrow said the sentence sent out the wrong type of message.
"I think the public would fail to understand the judge's rationale behind this decision and I think he has some more explaining to do," he said.
In sentencing the judge said there were mitigating factors in terms of why Coyle had been sentenced to a year's detention and two years on licence.
No future risk
The judge said he was certain Coyle never intended to kill his grandfather, or even to seriously harm him, but that he had gone to his home "for the motive of theft or robbery".
Mr Justice McLaughlin said he accepted Coyle posed no future risk to the public.
He also said that he would recommend to the justice Department that while on licence Coyle undertakes a life skills and educational course and that his movements and associates be closely monitored.
Lord Morrow said he was shocked and did not think a 12-month sentence for manslaughter was appropriate.
"People can't understand it, this could be reduced to six-months, he said.
During the trial Coyle's mother Mrs Rose Colton said since the killing, he was a changed person, adding "Eamonn is my son and I'm standing by him".
His aunt Mrs Mary Kelly added that Coyle realised the hurt he'd caused, and that he will regret and live with that for the rest of his life.
Lord Morrow said although it was significant Coyle's mother had stood by him, he still thought the case should be reviewed.
"I'm not sure people are convinced justice has been delivered, irrespective of what the circumstances were and what the family might have said."
"An elderly man is in his grave as a result of this and we should never lose sight of that."