Gas heaters recalled over carbon monoxide fears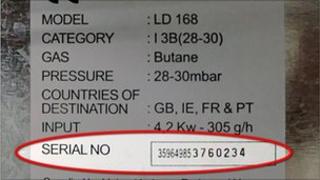 UniPart and Calor have recalled a number of portable gas heaters sold since August 2010 over safety concerns.
The heaters have been emitting carbon monoxide above the permitted level. The potential fault was discovered in England as a result of a lab test.
The models affected are: Royal Class, Calor Classic and Calor Compact. The heaters should be switched off and returned to where they were purchased.
Calor said there are about 100 of the heaters in Northern Ireland.
The information line for customers who are worried about their heaters is 028 9045 5588 or 0800 181 4522. A full list is also on the Calor website.
Customers in the Republic of Ireland can call 1850 812 470.
The affected heaters were sold through independent retailers both in the UK and in Ireland.
Heaters bought before August are not affected and anyone who bought one after that date should stop using it now.
Calor believes the number of products affected and sold to date to be about 800 across the entire island of Ireland.
A full list of the serial numbers affected can be found on the company's website.
Apologise
Any affected customers will be offered a replacement product where stocks allow or a full refund.
A spokesperson from UniPart said: "Whilst there is perceived to be minimal risk, our customers' safety is paramount, so we have decided to carry out a product recall.
"The malfunction could lead to the heaters emitting carbon monoxide marginally above the allowed levels.
"Royal Classic, Calor Classic and Calor Compact portable heaters which have been purchased after the 1st August 2010 must be switched off immediately, and returned to the point of sale.
"We wish to thank our customers for their co-operation and apologise for any inconvenience caused."
"The heaters have been imported from UniPart in the UK by a number of Irish based distributors."
Irish retailers of these products have been notified of the fault, and sales have been suspended. No other products are affected.