Artistic bombs..Irish history in cartoon form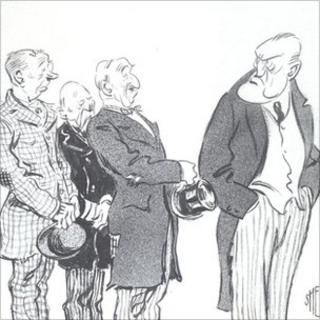 It's a well known fact that a picture is worth a thousand words and a special event in Belfast is about to reinforce that age old adage.
One of Ireland's most important newspaper cartoon archives, the Shemus cartoons, will be brought to life at a lecture by historian and author Felix Larkin on Wednesday.
Mr Larkin, who penned Terror and Discord: The Shemus Cartoons, has been invited to speak at St Malachy's Old Boys Association about the controversial drawings.
The cartoons by Ernest Forbes were published in the Freeman's Journal during the 1920s and were described by the Irish government at the time as "artistic bombs".
They provided hard-hitting commentary on events during one of the most troubled periods in Irish history and included original caricature portraits of politicians like Michael Collins, Eamon de Velera and Edward Carson.
Mr Larkin said he is looking forward to sharing Forbes' work with the people of Belfast.
He added: "I have done a lot of lectures in Dublin but I am really looking forward to seeing how the audience in Belfast reacts especially to Northern Ireland cartoons of Carson."
Forbes was born in Leeds in 1879 before moving to Ireland at the start of 1920 to join the staff of the Freeman.
Mr Larkin said: "Forbes was a British liberal. He was quite critical of British policy in Ireland and that was also the editorial policy of the Freeman.
"Subsequently, it strongly campaigned for acceptance of the Treaty and railed against those who opposed it."
Forbes was obliged to follow the editorial policy of his paper but he was happy to do so as it more or less matched his own political views.
He sometimes published up to two cartoons a week profiling some of the most important events to take place that decade, including the War of Independence and the Civil War.
His last cartoon was dated 15 November 1924 and depicted Edward Carson and the Northern Irish unionists. Just one month later the Freeman ceased publication.
Mr Larkin said: "Its circulation had been in steady decline. The Shemus cartoons will always be remembered.
"They were described as 'artistic bombs' in the Dail because they packed such a punch."