Tommy English murder suspect 'to go home to mother'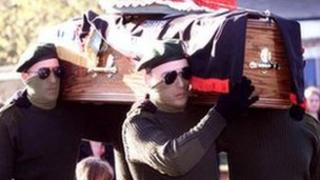 A suspected "senior member of the UVF" is to be allowed to return home so his "mother would be able to look after him" a court has heard.
Jason Loughlin, formerly of Ballyvessey Park, is accused of involvement in the murder of UDA member Tommy English.
Belfast Crown Court heard that since being granted bail in September his mental state had deteriorated.
Allowing the request, the judge warned the 34-year-old not to contact the English family.
English, a high-ranking Ulster Defence Association member, was shot dead at his Newtownabbey home in October 2000.
His murder was part of a loyalist paramilitary feud which claimed four lives in five days.
A defence lawyer said that Mr Loughlin was "throwing himself on the mercy and compassion of the court" and wanted only to return to the care of his family home in Newtownabbey.
Self-harming
His sister claimed that if allowed to return home, their mother would able to "look after him .... and not have to worry about him".
Mr Justice Hart ruled that Mr Loughlin's clear and significant mental problems "tipped the balance in favour" of allowing him to return to the family home in New Mossley.
The judge said that reports on Mr Loughlin, already taking medication for depression and anxiety, showed that his psychological health was suffering and that there had been "a recent epsoide of self-harming".
He warned Mr Loughlin to be under "no illusion" that while he was being given a "rather exceptional chance", he would be returned to prison if he even attempted to contact any member of the English family, or any of his co-accused.
As part of the bail variation Loughlin must observe a 2000 to 0800 GMT curfew each evening and report to the police three times a week.