Trio convicted of IRA membership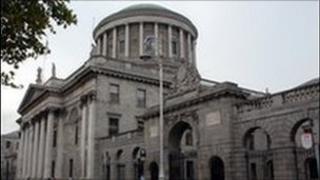 Three men from Northern Ireland have been convicted of IRA membership at the Special Criminal Court in Dublin.
They are Desmond Donnelly, 57, of Drumall, Lisnarick, Gerard McGarrigle, 45, of Mount Carmel Heights, Strabane and Jim Murphy of Floraville, Enniskillen.
The men were arrested in Letterkenny after Irish police were tipped-off over a suspected dissident republican "tiger kidnap" plot.
They will be sentenced on 15 December.
All three had denied they were members of an illegal organisation.
The trio were charged with membership of an illegal organisation styling itself on the Irish Republican Army, Oglaigh na hEireann, or the IRA.
Under Irish law people suspected of being members of a variety of dissident republican groups are charged with IRA membership.
The court heard that the three men were arrested at an Irish police checkpoint outside Letterkenny in the early hours of February 2009.
The court also heard that a number of items were found in a car used by the men when it was stopped at the checkpoint at Oldtown.
These included an imitation firearm, latex gloves, nine cable ties and black bin liners.
The judge said that it had not been established that the items found in the car were connected with any plot.
But he added that the items rendered "material" many of the questions which had not been answered by the three accused during police interviews.