Victim may have been overcome by fumes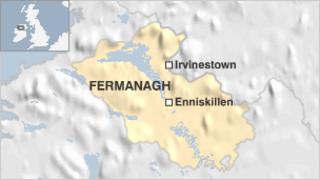 A man found dead at a restaurant in Irvinestown, County Fermanagh, may have been overcome by fumes.
The victim, who is from Malaysia and in his early 20s, was discovered by a member of staff at the building in Main Street at 1430 GMT on Wednesday.
It is believed there was a problem with the power supply and a generator which was being used stopped working.
While the manageress was trying to re-start it in the store, she spotted the body of her colleague.
The restaurant opened just three months ago.
Police Inspector Roy Robinson said: "Because of the generator running in the building, it is most likely that it may have been carbon monoxide poison.
"We still have to wait for the forensic results to determine how he died, but that is the line of inquiry we are looking at tonight."
Two weeks ago, a well-known couple in Irvinestown, Killian and Pauline Scallon, were fatally poisoned by carbon monoxide in their home.
The toxic gas also killed two teenagers in August.
Neil McFerran and Aaron Davidson died at a holiday apartment in Castlerock.