Downe Hospital A&E will be staffed by GPs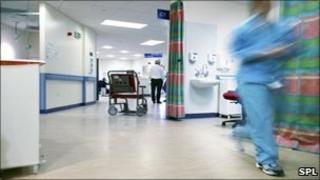 Controversial changes to health services and A&E cover at Downe Hospital have been agreed by the South Eastern Health Trust (SEHT).
The decision followed a meeting of the trust's board in Downpatrick.
Local GPs will now be asked to staff the A&E unit at Downe between 2200 and 0800 GMT and at weekends.
Acute mental heath in-patient services are to be moved from the Ulster Hospital in Dundonald and from the Downshire Hospital in Downpatrick.
Services from both hospitals are to be relocated to the Lagan Valley Hospital in Lisburn.
The SEHT announced their decision after 16 people strongly opposed to the changes addressed the trust's 17 board members in front of a 200-strong audience.
Public consultation
When the £64m Downe hospital opened in 2009, people in County Down had hoped to get a consultant-led A&E unit.
Due to the trust's failure to recruit middle-grade doctors, that hope came to nothing.
The trust defended its decision by saying these moves would protect exisitng services and that 50 GPs have expressed an interest in working for the out of hours service.
Meanwhile, campaigners opposed to the move said lives would be put at risk.
The meeting in Downpatrick followed a period of public consultation which started before the summer.
In June, when senior members of the trust put the plans to people in County Down, there were strong objections.
Some of this came from local doctors, who claimed they had not been contacted.