Bank of Ireland art sale raises 1.5m euros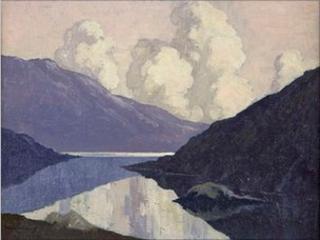 The sale of part of Bank of Ireland's art collection has exceeded expectations by raising more than 1.5m euros (£1.26m; $1.99m) at an auction in Dublin on Wednesday evening.
More than 99% of the items were sold.
The highest price was paid for a painting by Northern Ireland artist, Paul Henry, his "Clouds at Sunset", sold for €66,000 (£55,700; $87,888).
About 500 people attended the auction at the Shelbourne Hotel.
Among the other works sold was Louis le Brocquy's 'Study Towards an Image of James Joyce', which sold for €50,000 (£42,251; $66,580)
Gerard Dillon's 'Out with the Nets' also sold for €50,000, while a Sean Keating self-portrait sold for €32,000 (£27,040; $42,633).
Auctioneers Adam's said it had unprecedented interest in the sale, with the venue being moved from Adam's offices to the nearby Shelbourne Hotel due to demand.
The auctioneer's managing director James O'Halloran said that more than 3,500 people had visited the public viewings which began on Saturday.
Bank of Ireland has been badly exposed to the Irish banking crisis and the resulting fall in property prices.
Reports on Wednesday suggested that it will be effectively nationalised as a consequence of the EU and IMF bail-out.
The auction is the first stage in the bank's disposal of its art collection, which contains about 2,000 pieces.
The bank has said it will not benefit from the sale and that all profits will be given to community-based arts projects.