Barristers legal aid bill revealed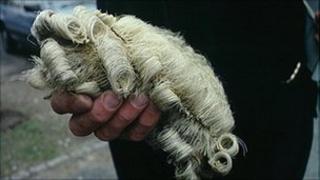 Barristers in Northern Ireland have been paid more than £60m from the public purse for carrying out legal aid work over the past two years.
The identity of the barristers was revealed for the first time on Wednesday despite objections from some lawyers.
Ten of them account for payments of more than £17m.
The top earner was Greg Berry, who was paid more than £2m over the two years. Four others earned more than £1.5m.
Six earned £1m or more while 22 earned over £500,000.
In the last financial year, 2009/10, the top 100 barristers were paid almost £30m.
In the previous financial year 2008/9, the top 100 earners were paid almost £22m.
Strangford Ulster Unionist MLA David McNarry said he was "astonished" at the scale of the payments.
He added: "People will want to know how and why such a small group of people could be paid so much from the public purse especially at a time when ordinary families and individuals are having to show great economic restraint."
The Bar Council said that amounts received in any one year will cover work done over a number of years in a variety of cases.
A statement added that the payments are only made once they have been carefully assessed by the Legal Services Commission.