No new negotiations on spending review cash - Paterson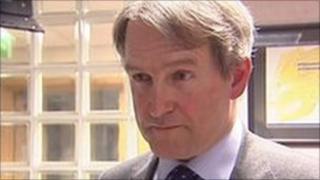 The Secretary of State has said the government will not renegotiate Northern Ireland's allocation in the Comprehensive Spending Review.
Stormont finance minister Sammy Wilson has warned the cuts would cut £4bn from the NI budget over the next four years.
But while some politicians have said London is not meeting its obligations, Owen Paterson told a dinner on Thursday evening, there would be no negotiation.
He also called on the executive to produce a draft budget quickly.
He said: "A settlement is precisely that - a settlement. It is not the opening round of a negotiation."
Mr Paterson said Stormont had got a fair deal, which compared well with the rest of the UK and included an offer to resolve the crisis faced by savers with the Presbyterian Mutual Society (PMS).
In a speech to the Co-operation Ireland dinner in Belfast, he said the government would stick to its wider financial plans.
"The executive is being asked to make reductions in current spending of 1.72% a year over four years.
"While the reduction in one of the capital spending streams is higher, having discussed in detail with the Treasury we are confident that - using the same assumptions and calculations as Gordon Brown in 2007 - we will deliver the £18bn promised after St Andrews.
"Northern Ireland is now the only part of the United Kingdom that hasn't set a budget following the spending review settlement.
"That cannot go on. People need clarity and certainty."