Heavy snowfall across Northern Ireland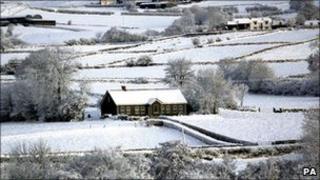 Motorists have been urged to take care on the roads following heavy snow falls across Northern Ireland.
The Met Office warned of icy conditions and freezing temperatures on Friday and said the cold weather will continue for much of the weekend.
Colin Brown of Roads Service said it was prepared for a "consistent cold period" over the next week and urged drivers and pedestrians to take care.
He added: "Black ice is what we would ask the public to be aware of."
"We are fully stocked with 65,000 tonnes of salt in our barns, that should take us through a normal winter, but if this winter is anything like last winter we may see much more salt being stocked up as we progress through the next few months."
BBC NI weather presenter Angie Phillips said most of the snow showers were across counties Londonderry, Tyrone and Fermanagh, but they gradually penetrated further inland to other areas during the late afternoon and evening.
She said the snow would affect some areas more than others, "but would start to settle, with up to four inches possible across higher ground in the north".
It is expected that snow showers will ease off on Friday night, but widespread frost and icy conditions will develop as temperatures inland drop to between -3C and -5C.
Saturday is also expected to have an icy start and will be another "bitterly cold day with highs around 3C".
Sleet and snow showers will develop again, drifting inland at times through the day, but they will tend to be more frequent and heavy across northern and western parts.
Sunday is likely to be icy and cold with sleet and snow showers, and these may become more frequent in the north and east as an easterly wind picks up.