Calling time on the Guildhall clock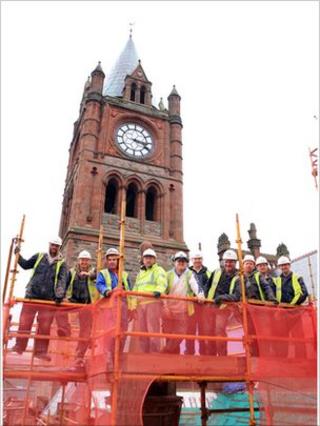 It's one of Londonderry's best-known landmarks - but look carefully, because it's about to disappear from view.
The Guildhall clock is to be covered up from the end of November to protect it while restoration work takes place on the tower.
And it's not just the clock that will be missing - the hourly strike and quarterly chimes of the bells are also to be put on hold.
"The impressive turret clock and copper roof will be missed from our skyline," said City Engineer John Kelpie.
When it was finished in 1891 the clock was the largest and most powerful of its kind in Ireland.
It was made by Ritchie's of Edinburgh, who still give its intricate mechanism a yearly service.
"In times gone past a laborious winding of the clock mechanism was regularly undertaken to ensure the shipping lines, trains and other means of transport were reliably informed of the time," explained Mr Kelpie.
"Carrying on this 119-year-old tradition, Derry City Council's City Engineers department are responsible for ensuring the clock is wound, albeit by faster electronic means, twice weekly."
The Chairman of the council's Environmental Services Committee, Mark H Durkan, said he was delighted to see the work on the Guildhall progressing so well.
"The Guildhall is the iconic building for the city and it is important that we safeguard and showcase its architectural and historical legacy for future generations.
"It is a focal point for the current regeneration of the city centre and a key constituent of our tourism offer, especially with the expected increase in visitor numbers as we approach the City of Culture in 2013.
"Derry City Council are proud to be investing in our city's unique heritage and look forward to March 2011 when we will begin to catch glimpses of how the Guildhall, and it's distinctive clock tower, wil be restored to its former glory."
The Guildhall clock is expected to be visible and fully operational by mid-March.