Lady Bury's stamp collection fetches £3m at Sotheby's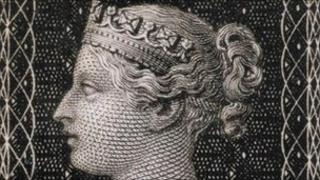 A unique stamp collection which belonged to a County Down aristocrat has sold for more than £3m at auction.
A total of £3,045,924 was raised as Lady Mairi Bury's unique 19th century postage stamps went under the hammer at Sotheby's in London. The final figure significantly exceeded pre-sale expectations of £2.6m.
Lady Bury's collection of King Edward VII stamps was the top selling lot at the auction. It fetched £66,000, more than three times its guide price.
An unused 2p blue issued in 1840 was the surprise success of the sale. It soared above its £8,000 guide price and eventually fetched £43,500.
The auction closed at 1730 GMT on Friday after three days and 2,185 lots.
Lady Bury is recognised as the world's greatest ever female philatelist and her collection is regarded as one of the finest to be auctioned in the last 25 years.
It includes examples of every variety of the Penny Black ever produced.
One such stamp, which was prepared for official use in 1840 but never used, sold for £36,000 on Thursday.
'A leading light'
The sale at Sotheby's follows Lady Mairi's death last year. She passed away in November last year aged 88, having spent most of her life at her ancestral home at Mount Stewart in County Down.
In addition to thousands of stamps, the sale includes early examples of printed envelopes and letters relating to another of her passions, Victorian sensations and scandals.
Among them is a letter posted on 13 June, 1840, using a Penny Black, which refers to the attempted assassination of Queen Victoria three days previously by Edward Oxford in London. It fetched £1,140.
Speaking after the auction Sotheby's philatelic consultant, Richard Ashton said: "Throughout her remarkable life, during which stamp collecting was just one of the many pursuits she tackled with the most incredible detail, Lady Mairi sought out items that added anything of interest to her collection.
"Something for £50 gave her as much pleasure as something one hundred times that amount.
"The auction has afforded collectors the opportunity to own philatelic objects associated with a leading light in the stamp world, as Lady Mairi was duly esteemed in her field and honoured with numerous philatelic awards.
"It is pleasing to think that collectors can now derive the same enjoyment from these stamps as Lady Mairi did".
Lady Mairi's life was as colourful as her collection.
She learned to fly a plane when she was 11 and as a child met Adolf Hitler during a trip to Germany with her father.
She later said of the Nazi dictator: "I thought, what a nondescript person. No, I'm afraid no aura of evil, no sense of foreboding, a rather quiet voice."