Shankill Star band given parade route ban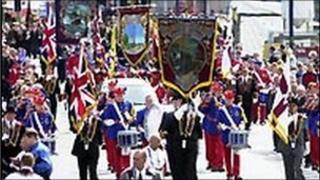 The Parades Commission has ruled that a band which commemorates a UVF killer will not be allowed on the contentious route of a Belfast parade next month.
The Shankill Star flute band has been banned from marching past part of Ardoyne on 4 December.
The band commemorates Shankill UVF man Brian Robinson.
He was shot dead by undercover British soldiers minutes after he had shot dead Catholic man Paddy McKenna outside Ardoyne shops in 1989.
The parade has been organised by the Ligoniel Walker Club of the Apprentice Boys of Derry.
The Parades Commission accepted the club had never been involved in any violence or misbehaviour in the past.
However, it said residents and nationalist political parties found the band provocative.
"The band and supporters are prohibited from that part of the notified route between the junction of Crumlin Road and Hesketh Road and the junction of Woodvale Road and Woodvale Parade," it said.
The same band was banned from another parade in the area organised by the Ligoniel Walker Club in August.
SDLP councillor Nicola Mallon welcomed the latest ban.
"The decision not to allow the deliberately offensive Shankill Star Flute Band which commemorates UVF Killer Brian Robinson to pass through Ardoyne and the home of one of his victims is to be welcomed," she said.
"However, the fact remains that the North & West Belfast Parades Forum continues to refuse to engage in any genuine and meaningful dialogue with residents.
"It is only by genuine, respectful and meaningful local dialogue that any lasting solution to the issue of contentious parades can come about."
The North and West Belfast Parades Forum has criticised the ruling.
Winston Irvine from the forum said the Parades Commission decision was "unfair and unjustified".