Rare monkey 'on loose' in County Tyrone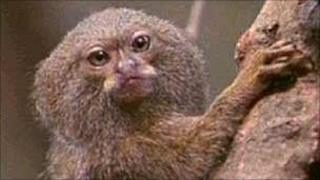 A rare monkey is believed to be on the loose in County Tyrone.
Police received a report last week that a small red monkey had been seen in the Ballynahatty Road between Omagh and Fintona.
Based on the description, police think the animal was a marmoset, which comes from the rainforests of south America.
A PSNI spokesman said no further reports have been received and no-one has come forward to say they have lost such an animal.
David Wilson, of the Ulster Society for the Prevention of Cruelty to Animals (USPCA), said given the climate marmosets were used to, the animal would be in real danger.
"It's obviously an animal that's escaped from a collector," he said.
"It won't survive in this weather - they're used to a tropical climate, they'll certainly struggle in the weather we're having at the minute.
"If anybody sees it, get hold of the authorities - give us or the police a ring, or if anybody knows who it belongs to, tell the police, tell somebody before we find it lying in the foot of a ditch."
Mr Wilson said the owner could come forward without fear of prosecution as, because the marmoset was not covered by the Dangerous Wild Animal Act, owning them is not against the law, nor is it for pet shops to sell them.
"They might be breaking common sense, but they wouldn't be breaking the law," he said.
The USPCA man added that there was a growing trend for more exotic pets in Northern Ireland.
"We're running around gathering up snakes all the time, that's the most common one for us," he said.
"Generally reptiles and small mammals like those (the marmoset) - the day of the big cat seems to have passed us now."