Paisley Jnr will not 'double-job' despite party U-turn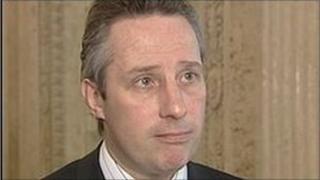 The DUP MP for North Antrim said he is not interested in standing for the Assembly elections next year.
Ian Paisley Junior made his remarks to the Politics Show, as the DUP rethinks its decision to end double jobbing between Stormont and Westminster.
Mr Paisley, who quit the Assembly after winning his Westminster seat said he will not be going back on his earlier promise.
"I'm trying to be absolutely consistent in this point," he said.
"I made a commitment to my electorate and got elected on that basis, so I'll be staying in Westminster."
On Friday, Peter Robinson said DUP MP's might be allowed to run for the Assembly next year.
The DUP leader had been phasing out dual mandates, but has since said it would be for the DUP Executive to decide whether double-jobbing could continue.
The bill to stop MLAs also being councillors has passed several legislative stages.
If it goes ahead the bill would end dual Assembly and local government mandates by the time of the council elections next year.