NI civil service pension scheme is £50m in the red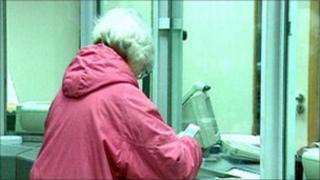 Northern Ireland's civil service pension scheme has been revealed to be more than £50m in the red.
The final salary retirement plan is under pressure due to an increase in civil servants under the Labour government and retirees living longer.
The civil service has around 26,000 people on a variety of packages.
John Compton, a director at PricewaterhouseCoopers NI, predicted that the government will consider scrapping the system within five years.
"This government will have to make some hard choices. They should go the same way as the private sector and cut out final salary schemes working towards some form of a funded scheme," he said.
"Ultimately the scheme has to be radically overhauled."
Responding to an assembly question by SDLP MLA Tommy Burns, the Department of Finance and Personnel said the principal civil service pensions scheme was £50.5m in deficit in 2009 - 10 compared to £16.8m in 2001 - 2.
Mr Burns said it was a serious situation.
"The scheme is going to have to have more money put into it, but where is the money coming from?" he asked.
"At this stage of proceedings it should be highlighted that there is a shortfall, but there should be preparations made to balance the money."