Winter weather closes north-west schools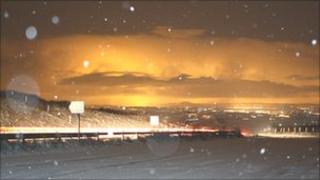 Some schools have been forced to close as snow and ice cause treacherous driving conditions in the north-west.
Roads Service on Monday warned of extremely hazardous driving conditions, but said all roads are open.
Main roads have been treated and are said to be passable with care.
In Londonderry, Oakgrove Integrated College, Immaculate Conception College, St Peter's Secondary School, St Cecilia's College and St Joseph's Boys' School are all closed.
Newbuildings Primary School, Listress Primary School and Belmont House Special School are also shut.
In Tyrone, Bready Jubilee Primary School, Gortin Primary School, St Patrick's Primary School, Gortin, and Knockavoe School in Strabane are closed due to the weather.
At City of Derry airport, the 0805 GMT flight from London Stansted has been diverted to Belfast International airport.
The 0830 departure to London Stansted will now operate from Belfast International, and passengers will be transferred by bus.
A spokesperson from the airport said it was currently open, but there was likely to be ongoing flight disruption because of poor weather conditions at City of Derry and at some of their destination airports.
On Sunday gritting lorries were attacked in Creggan and Gobnascale in Derry on Sunday, and the service had to be withdrawn.
The window of one vehicle was smashed.
SDLP MLA Pat Ramsey said young people should know better than to attack gritters.
"Young people should know what's right from wrong in these situations, and this is getting out of hand."
Overnight temperatures in Castlederg, County Tyrone, were recorded at -8.5C and -7.1C in Enniskillen.
On Sunday, temperatures plummeted to the coldest on record for November in Northern Ireland.
The lowest reading was at Lough Fea which dropped to -9.5C (14.9F).
The next coldest temperature was -9C (15.8F) recorded in 1978 at Murlough.