Clonoe 'devastated' by student death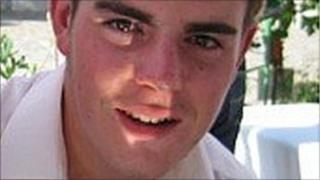 The County Tyrone village of Clonoe has been left devastated by the death of Andrew O'Neill, an assembly member has said.
Mr O'Neill, who was from the village, died when he was hit by a stolen car in Liverpool city centre in the early hours of Sunday morning.
Two men, aged 19 and 20, have been charged in connection with the incident.
Sinn Fein Mid-Ulster MLA Michelle O'Neill said the family had been contacted by police on Sunday morning to tell them their son was dead.
"To get a call like that in the early hours of the morning - and you're in a different country - to be told your son has lost his life is just devastating," she said.
"Anybody who knew Andrew really liked him, genuinely liked him. He was such a good young lad and everyone had high words to say about him.
"He was very much a part of the community and the community's been left devastated by what happened to him."
She said people in the area would do what they could to help the family.
"The O'Neill family are a well-known and well-respected family in the area and I know the community will rally round and support them."
Mr O'Neill was a second year student at Liverpool John Moores University and was close to the halls of residence when he was hit by the car.
SDLP Coalisland councillor Jim Cavanagh said it would take time for Clonoe to get over the tragedy.
"I know the older generations of the O'Neills and they are very nice people, very well thought of and respected and it is such a shame that they should lose their son in such heartbreaking circumstances," he said.
"There's a huge amount of sadness in Clonoe and right across the district.
"The community has lost a talented and dedicated young man and that is hard to overcome. So many will never overcome this great sadness."