US filming in Northern Ireland 'bringing in millions'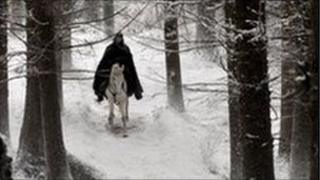 First Minister Peter Robinson has told the Assembly US film and television companies which have come to NI have hugely benefited the economy.
An investment of £2.5m by the Executive has brought in almost £30m, he said.
Mr Robinson referred to the feature film, Your Highness and the series Game of Thrones, both of which have been filmed in Northern Ireland.
He also told the assembly of the success of the locally made Sesame Tree television series.
On the Universal feature film, Your Highness, Mr Robinson said an investment by the Executive of just over £1m had brought in revenue of £12m.
The movie was made in Northern Ireland last year and is due to be released in the US in April and the UK in June of next year.
Mr Robinson said a £1.6m investment in the HBO series Game of Thrones, which is currently being filmed, is likely to bring £17m into the Northern Ireland economy.
Six more series of the medieval fantasy are planned.
If they are made in Northern Ireland, it is estimated that an investment of £11m would bring in £140m, Mr Robinson said.
A decision is expected by April of 2011 on where the second series is to be filmed.
On the current production, the first minister said 800 people have been employed.