Angler is rescued from Lough Erne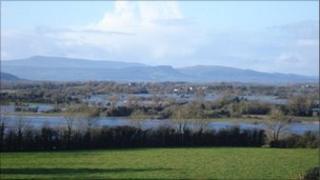 An angler has been rescued from Lough Erne after his boat struck ice on Monday night.
The man in his 30s fell into the freezing water, but managed to pull himself back onto his boat and make it to an island.
He was able to ring the emergency services at about 1700 GMT and a lifeboat and a helicopter were sent to get him.
The man was treated for the effects of sub-zero temperatures.
Steve Carson of the Belfast Coastguard said the man involved had been fortunate.
"With the adverse weather that we are experiencing, people are still taking unnecessary risks. The weather and the forecasted weather has been widely publicised in the media.
"In past years when this lough has frozen, we have had calls about people venturing onto the ice, on foot and in vehicles.
"This is madness, and will end up in disaster if people do not heed the warnings.
"Please do not place yourself at risk anytime, but with the extreme weather we are experiencing, that message is highly important."