Community celebrates new image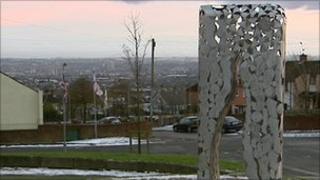 A north Belfast community is to celebrate its new image on Tuesday with the official launch of artworks which have replaced paramilitary murals.
What is said to have been the last UDA mural in Ballysillan has now been replaced by sculpture and a garden.
John Howcroft of the north Belfast Community Development and Transition Group said the project was encouraging.
"You'll see some of the new murals and the sculpture about the place and they identify a positive future," he said.
"Younger and older people have come here together and said what their aspirations for the future are and they do not have any place for conflict and that is a very encouraging message of a commuinity moving forward."