Stormont hosts Christmas carols with the Priests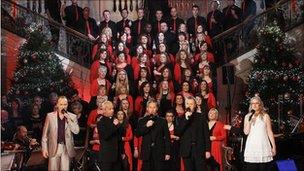 The marble halls of Stormont are normally a place for serious faces discussing serious business.
But this year they have decked those halls with boughs of holly for a cheery Christmas concert hosted by Northern Ireland's popular singing trio, the Priests.
Fathers Eugene and Martin O'Hagan, and Father David Delargy present and star in Christmas Carols with the Priests, a free concert held in the Great Hall in Parliament Buildings, Stormont - transformed for the occasion from a busy government building into a cosy festive venue.
The concert will be broadcast on BBC One Northern Ireland during Christmas week.
Fathers Eugene and Martin from Claudy, and Father David from Ballymena, perform carols including 'O Come All Ye Faithful', 'Ding Dong Merrily on High', and 'Little Drummer Boy', a song which the trio recently recorded with Shane McGowan from the Pogues.
The song, recorded by David Bowie and Bing Crosby in 1977, is on the singing priests' Christmas album Noel, which was released on 6 December.
Father Eugene said the team up with McGowan showed "how music builds bridges and brings us into creative contact with unlikely partnerships".
The Priests won't be singing alone at Stormont either and Father Martin was keen to highlight the other artists joining them on stage.
"It's not just the Priests, there are lots of other artists taking part in the concert. There is a fantastic gospel choir and Peter Corry sings a beautiful, beautiful song Belleau Wood, there's a bit of poetry by Jane Wisner. There's a lot of variety and a lot of musical varieties," he said.
They are also joined by 12-year-old soprano Niall McDowell from the Schola Cantorum at St Peter's Cathedral in Belfast singing 'Walking In The Air' from the animated film, 'The Snowman'.
Other guests include Londonderry singer Eilidh Patterson, the Cappella Caeciliana choir and the 62-strong Belfast Community Gospel Choir.
Father Eugene said the Priests had been "delighted" to be asked to take part in the programme for BBC Northern Ireland.
"Our guests helped make the concert a real celebration of Christmas, as they performed some of our favourite carols so beautifully. We hope that viewers watching the programme will feel as festive as we did recording it," he said.
Patricia Moore from Tyrone Productions, who produced the concert for BBC Northern Ireland, said she hoped the music and the "spectacular setting" of Parliament Buildings, would bring "the warmth and feel good factor" of the carol service into viewer's homes.
Father Eugene also hoped the concert would spread some Christmas cheer.
"Hopefully, when we see it on the television on 21 December, the concert will give people that nice feeling that we all look for at Christmas, joy, happiness, concern for others and a real sense, during the dark days of winter, of hope for the future," he said.
Father Martin said the Great Hall was "a fantastic venue" for the concert.
"I think it's symptomatic of a whole change of regime at Stormont; they want to welcome people in. So I think that having the Priests there was an expression of that idea that Stormont is for everybody," he said.
Father David said he hoped that, while this Christmas may be more financially challenging than usual, something positive may come out of it.
"Perhaps it will make us think again, make us think about what lasts and what is of lasting value. As a result of that there probably will be, I hope, a concern for others which perhaps had been undermined slightly," he said.
Of course Christmas itself will be a bit of a busman's holiday for the three singers.
"We'll have the usual responsibilities and duties and joy of celebrating Christmas in our respective parishes," Father David said.
"I'll be going home to Ballymena for Christmas. My family is still there and every year there's a bit of a family gathering. And my mother is a great cook," he said.
Father Eugene explained what he and his brother Father Martin had planned for the holidays.
"As Christmas falls on a Saturday, Martin and myself will go home together and celebrate with our father on Sunday. That's not to say we won't be celebrating on Saturday as well, it's a good excuse to celebrate twice."
Christmas Carols with The Priests is on BBC One Northern Ireland on Tuesday 21 December at 2100 GMT. The concert will be repeated on Thursday, 23 December, on BBC Two NI at 2030 GMT. Transmission details are still subject to change at this time.