NI hospitals improve hygiene record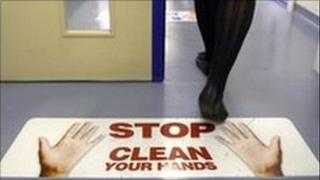 A hygiene report into Northern Ireland's eight acute hospitals has found that "significant" improvements have been made.
In 2009 The Regulation and Quality Improvement Authority (RQIA) made unannounced visits to hospitals and many failed to meet compliance levels.
A year on, the RQIA made follow up inspections and found notable improvements.
However, inspectors noted that old or broken equipment was still a problem.
Delivery suites at the Ulster, Craigavon, Royal Jubilee, Daisy Hill and Erne hospitals all received a follow up inspection, after failing to reach compliance levels in certain aspects of hygiene and infection control last year.
Within the year all had improved significantly with the Belfast's Royal Jubilee Maternity increasing its rating from 75% to 92%.
However, inspectors noted that old or broken equipment including commodes obstructed proper cleaning from taking place and in Craigavon there was no evidence of cleaning schedules.
Improvement
Inspections of wards and departments in 18 of NI's main hospitals found notable improvements but highlighted that in the A&E departments at the Royal, City, Craigavon and Ward Four in Musgrave Park Hospital - effective leadership was still required.
In the follow up inspections to 10 psychiatric units, the RQIA noted that the old fabric of buildings impeded cleaning but that improvements in leadership could be achieved at little cost.
Glenn Houston, RQIA Chief Executive, said: "Good infection control and hygiene practices are key to reducing the risk of health care associated infection, and building public confidence in our health and social care services.
"In 2009, RQIA carried out inspections at hospitals across Northern Ireland, making recommendations for learning and improvement," he continued.
This year we followed up on these inspections, and RQIA has noted significant improvements across all services. In the areas inspected, of particular note are improvements in acute hospitals."