PSNI deal with 24,482 domestic violence incidents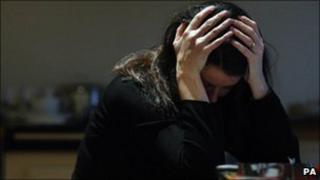 Police officers in Northern Ireland deal with one incident of domestic violence every 21 minutes according to a new report by Criminal Justice Inspection NI.
It carried out an investigation into how domestic abuse cases are dealt with.
Police officers responded to 24,482 domestic violence and abuse incidents in 2009-10.
The CJI has made 13 recommendations in its report.
Dr Michael Maguire, Chief Inspector of Criminal Justice in Northern Ireland said:"Inspectors identified a need to improve the consistency of service across Police Service of Northern Ireland (PSNI) districts in relation to how officers responded when called to domestic violence incidents.
"We have recommended that supervisors should proactively review the approach taken especially where decisions not to arrest have been made and to ensure that in cases of serious crimes, an effective and consistent investigation takes place."
Inspectors have also encouraged the PSNI to review the role and skills of domestic abuse officers and consider the need for a proportion of officers working in this area to be trained to a higher investigative level.
The inspection looked at the issue of domestic violence and abuse from the point at which an initial report was made through to its investigation, prosecution and court disposal.
Dr Maguire said it found that there had "been improvements in the manner in which domestic violence and abuse incidents are handled by the criminal justice agencies".
He added:"There has been a growing recognition of the need to understand the issues around domestic violence and abuse and to take action when incidents occur.
"Inspectors identified some good practice including the links between the justice agencies and the voluntary and community sector and in particular, the service provided by the PSNI domestic abuse officers."
Training
As part of its inspection, CJI reviewed the approach of the Public Prosecution Service (PPS) to domestic violence and abuse cases.
It found that all prosecutors had undertaken training on domestic violence and abuse cases and that domestic violence and abuse specialists had recently been appointed.
Inspectors found that prosecutors dealt with "large volumes of cases with a domestic motivation".
PPS statistics for 2008-09 indicated that in just over half of these cases (52.9%), a "no prosecution" decision was taken as the cases were found not to have met the test for prosecution.
The CJI said this figure was impacted on by a high number of victims withdrawing their support for the prosecution and that the PPS had to direct "no prosecution" in many cases due to lack of evidence other than a victim statement.
It said it welcomed the PPS's 2008 review to establish how its policy for prosecution cases of domestic violence was being implemented and recommended that the PPS continue to review domestic violence and abuse cases where a "no prosecution" decision had been made.