Ford urged to review his position after prisoner freed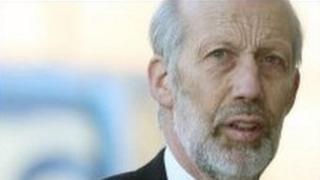 The chairman of the assembly's justice committee, Lord Morrow, has said David Ford should review his position after the third mistaken release of a prisoner in two months.
Officials are to brief the justice minister later after he launched an investigation following Sean Gerard Cahill's release by the Prison Service.
Cahill failed to turn up at Lisburn Magistrates' Court on Tuesday.
He had been released in error after appearing at court on 24 November.
Lord Morrow said he expected a statement from the minister in the assembly on Monday detailing "what had happened and how he intends putting it right".
"For the minister to be concerned that is not enough, it is the minister's responsibility to put in place a system that is fit for purpose," he added.
"How many more of these are going to happen until we get a system where we are satisfied that it is not going to happen?
"If I was the justice minister and having looked at the third case and it was a repeat of the previous that caused this then I would have to look at my position.
"I think he must demonstrate very clearly to the public at large that he has a real mind to put this right to ensure as far as humanly possible in the future it won't happen."
Cahill had been convicted and sentenced to one month imprisonment on a charge of aggravated vehicle-taking.
Action taken
He was released at that point due to the time that he had spent on remand awaiting trial.
However, rather than being released, Cahill should have been returned to custody pending a further hearing scheduled for Tuesday 30 November.
The second hearing at Laganside Courts was in relation to charges of robbery, possession of an offensive weapon and taking a vehicle without the owner's consent.
The error came to light when Cahill did not appear at Lisburn Magistrates' Court on Tuesday morning.
The justice minister's position has been defended by his Alliance party colleague Kieran McCarthy.
"Because David Ford has taken the position of justice minister these things are coming out in the open," he said.
"They may well have happened prior to this and no-one has ever passed any comment.
"He will investigate where the fault lies in the system and then there will have to be action taken to make sure these things do not happen again."
Mr Ford demanded that a disciplinary investigation be launched immediately into the release.
Officials are due to brief the minister on Wednesday.