£10m hotel complex planned for Tillie's site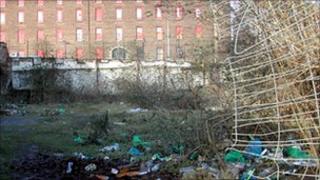 A Northern Ireland hotel group are to submit plans for a £10m hotel and commercial complex on the site of the former Tillie and Henderson factory in Londonderry.
The project, by Andras House Ltd, is expected to bring 150 construction jobs and 80 permanent posts.
The proposals is subject to a funding application and planning approval.
The site of the former shirt factory has been derelict since it was knocked down in 2003 after a series of fires.
The development will be anchored by a four-star, 139-bedroom hotel.
It will also feature 15 residential units, two shops and underground parking.
The director of Andras House, Rajesh Rana, said the company was "immensely excited" by the development.
"This project marks an important stage in the company's strategic focus on extending our services beyond the greater Belfast region.
"Further meetings are planned with the Planning Service and Council, and a detailed planning appliation will be lodged following this final round of consultations.
"In addition, discussions are underway about social employment contracts to provide training and jobs for local people."