Justice Minister David Ford defends position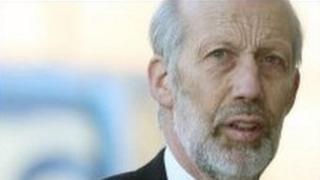 The Northern Ireland justice minister has rejected calls for him to consider his position.
David Ford has come under pressure after the third prisoner in two months was accidentally released from custody.
The chairman of the justice committee Lord Morrow said he should consider if he should remain in the role.
Mr Ford said his focus was on correcting the existing problems and not assigning blame.
"It would be very easy to say whose fault it was, but that doesn't achieve anything. What matters is to get the system right."
Mr Ford launched an investigation when he learned about the release on Tuesday.
He said he expects to see the preliminary report by mid-December.
The minister said that at this stage it was still unclear how the mistake had happened.
Sean Gerard Cahill failed to turn up at Lisburn Magistrates' Court on Tuesday.
He had been released in error after appearing at court on 24 November.
Lord Morrow said he expected a statement from the minister in the assembly on Monday detailing "what had happened and how he intends putting it right".
Cahill had been convicted and sentenced to one month imprisonment on a charge of aggravated vehicle-taking.
However, rather than being released, Cahill should have been returned to custody pending a further hearing scheduled for Tuesday 30 November.
The second hearing at Laganside Courts was in relation to charges of robbery, possession of an offensive weapon and taking a vehicle without the owner's consent.
The error came to light when Cahill did not appear at Lisburn Magistrates' Court on Tuesday morning.