Policing board chair Brian Rea hurts head at meeting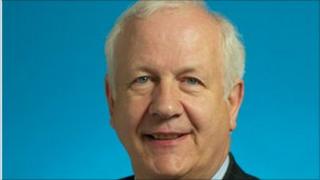 The acting chair of the policing board has been taken to hospital after accidentally injuring his head at board headquarters in Belfast.
Brian Rea was about to chair a meeting of the board when he struck his head on a wall light.
He sustained a gash which it's thought may require stitches
Independent board member Gearoid O hEara has taken Mr Rea's place as chair of the meeting.
The accident happened as Mr Rea was making his way to his seat just before the policing board meeting was due to start.
BBC reporter Mervyn Jess said Mr Rea was carrying a folder of papers as he squeezed passed television cameras when he struck his head on a glass wall light.
It became clear, as Mr Rea made his way out of the room, that he had cut his head on the broken glass.
He has been taken to hospital and the meeting began after a short delay.