McCausland angry at McCartan comments over Olympics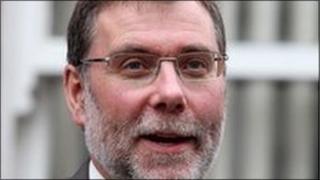 Nelson McCausland has said he is "deeply disappointed" at a top sports administrator's comments about Northern Ireland's failure to attract Olympic 2012 teams to training camps here.
Sport NI chief executive Eamonn McCartan said image was one of the reasons why the region had not been chosen as a base for competitors.
Fifty-one teams have so far registered at other camps across the UK.
The sports minister said Mr McCartan's remarks were "inappropriate".
He added:"I believe there is confidence in Northern Ireland - that is obvious from the recent high levels of foreign inward investment.
"There is also confidence in Northern Ireland as a sporting venue.
"The organisers of the World Police and Fire Games are planning on bringing 10,000 competitors along with supporters to Northern Ireland in 2013.
"Attracting countries is an opportunity to dispel outdated perceptions about Northern Ireland, and demonstrate how far things have changed."
On Wednesday, Mr McCartan said Northern Ireland's image was one of the reasons why it had not been selected as a venue for training camps.
"It wasn't that long ago that we had two young soldiers killed, we had a policeman killed and recently there was a report identifying the number of dissident issues that have occurred within the last year," he said.
"People train their whole lives for this one performance in the Olympics - and they will take a safe and secure route that will get them to their best performance in London."
Mr McCartan also identified geographical location, travel costs and access to competition venues as contributory factors to the failure to attract teams.
In September, the Department of Culture, Arts and Leisure announced it had to make savings of approximately £17m from next year through to 2015.
Representatives of the National Badminton Centre in Lisburn have said they are "60% confident" of confirming in the new year that the venue will be used as a base for a nation competing in the 2012 Olympics.