Dundalk seized mortar bomb 'for dissident NI attack'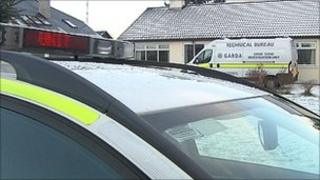 A mortar bomb seized from a car in the Irish Republic was primed to be used for an attack in Northern Ireland.
Senior Irish police officers said they were satisfied they had foiled an attack by republican dissidents, Oglaigh na hEireann.
Four men are still being questioned by gardai about the bomb. It was seized from a car near Dundalk, County Louth on Tuesday evening.
Irish bomb disposal experts moved in to make it safe.
Two men were arrested at the scene, both in their 20s, and two other men in their 30s were arrested nearby.
Two of those arrested are said to be from Northern Ireland and another is from Dundalk.
The men are being held for questioning at Drogheda, Balbriggan and Santry garda stations. They can be held for three days.
The M1 motorway was closed in both directions on Tuesday night while an Army team carried out what was described as " a technically difficult task that took over four hours".
Irish police said the mortar "posed a significant threat to the public".
A follow-up search was carried out at a house in Drumiskin, near Dundalk.
The Irish police said a number of items were seized and are being examined.