NI has its coldest November night since 1919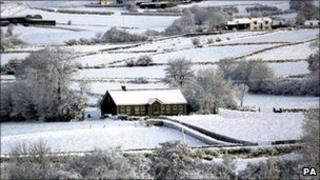 The Armagh Observatory has just experienced its coldest November night in almost a century.
Meteorologists at Armagh Observatory said on 28 November, the temperature plunged to -7.8C, a November low not reached since 15 November 1919.
In all, it has been the coldest November since 1985. The month was wetter, sunnier and colder than usual.
A spokesman for the observatory said 8cm of snow was recorded in the last five days of the month.
The total rainfall was 115mm - 50% higher than the most recent 30-year average for the month.
There were 81 hours of sunshine - which is about 42 per cent above the average.
The night of 28 November 2010 was the third coldest November night recorded at Armagh Observatory since records began in 1795.