Judge to set jail term for double killer Colin Howell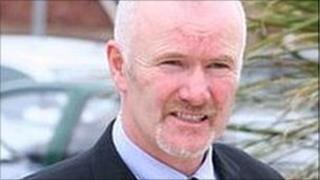 Dentist killer Colin Howell will learn in Belfast Crown Court later how long a jail sentence he will have to serve before being considered for release.
Earlier this year, Howell, 51, from Glebe Road, Castlerock, pleaded guilty to murdering his wife and his former lover's husband.
The bodies of Lesley Howell, 31, and Trevor Buchanan, 32, were found in a car full of exhaust fumes in 1991.
It was initially thought that they had died in a suicide pact.
The Crown Court on Monday was told how Lesley Howell called out to her six-year-old son, Matthew, as her husband gassed her.
Details of how Mr Buchanan struggled with his killer before becoming overcome with fumes were also made public.
The case was re-opened last year when Howell handed himself in at a police station.
The court heard that he kept the secret for almost 20 years before eventually confessing to detectives after losing more than £350,000 in a bid to find missing gold in the Philippines - a project which turned out to be a scam.
Howell, a father of 10, was a highly-acclaimed dentist and a lay-preacher.
The court was told that in recent years Howell had "realised he was a fake" and wanted to be "real", and that is why he confessed to the police.