Northern Ireland drugs spend is highest in the UK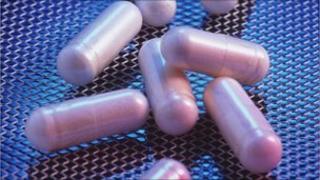 Northern Ireland spends more on medicines, including sleeping tablets, anti-depressants and obesity drugs than anywhere else in the UK.
Figures obtained by the BBC also show NI is second highest in Europe for dispensing anti-depressants.
The Health and Social Care Board said the figures showed changes are needed in the way drugs are administered and the public must expect to receive cheaper alternatives.
Medicines in NI cost £400m a year.
That averages at £224 per person, over £60 more than what is spent in England.
The BBC has also learned that NI prescribes double the amount of sleeping tablets than in England, Scotland and Wales.
According to the Health and Social Care Board, money must be saved and therefore less expensive drugs must be used.
Head of Pharmacy, Joe Brogan, said the public's health would not be compromised.
Cheaper alternatives
"I can assure the public that will not happen," he said. "Our aim is to continue to provide a good service, treating patients to the best of our ability but by using less branded medicines which are of still high quality.
"The public will not notice any difference."
Among the factors contributing to the high spend are prescriptions for illnesses still associated with the troubles and using expensive brands to treat them.
The Royal College of Psychiatrists said the troubles had not only impacted on the current generation but also their children.
RCP Policy Officer Dr Maria O'Kane said: "We would hope that with the continued development of psychiatric treatments, that the uses of these medicines and their costs would diminish, but that is not going to happen overnight or even in years to come."
At this stage, it appears the board will overspend its budget for medicines. However, there are plans to make up to £41m of savings by March next year.
According to the board, people will be prescribed fewer branded medicines and instead receive generic or cheaper alternatives for example:
By using alternatives to Lipitor and Crestor, which are both prescribed for treating high cholesterol, Northern Ireland could make annual savings of around £7m.
Instead of treating patients who have osteoporosis with a branded drug such as Actonel, alternatives would result in savings of around £3m.
The Chair of the Assembly's Health Committee, Jim Wells, has welcomed the move.
Money saved
"The committee has consistently called upon the board to promote the use of generic drugs," he said.
"They cost a fraction of the branded alternative and are equally effective."
Local health charities said any money saved should be ploughed back into the service and in particular into medicines.
Liz Atkinson, from the Ulster Cancer Foundation said patients in Northern Ireland must be able to avail of the same quality of drugs available to cancer patients in England.
"In England, David Cameron has made available a cancer fund pot of around 200 million pounds a year," she said.
"As far as we know that money is not available here in NI. If savings could be made on the local medicines bill that money could be put into our own cancer pot and patients could access newer cancer drugs and quicker."