Funeral preparations for Coleraine RIR soldier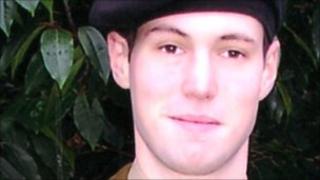 The funeral for Coleraine soldier Aaron McCormick who died in an explosion in Afghanistan on Remembrance Sunday is to take place on Saturday.
The 22-year-old from Macosquin was helping to clear roadside bombs in the Helmand area when he was killed.
He will be buried after a service at St Mary's Church of Ireland church.
Minister, Reverend Mike Roemmele, said it had been a long wait for the family but preparations for a full military funeral were under way.
"His family are very proud of him and they appreciate the work done by his family to give him a truly fitting funeral," he said.
"His Royal Irish colleagues are helping to prepare a military funeral which is a moving ceremony both bringing him into the church and from the church to the grave."
Mr Roemmele said the McCormick family had been "overwhelmed" by the support they had received.
"They have been overwhelmed by the cards and letters," he said.
"The local community also made a collection for the Royal Irish Benevolent Fund."
The minister said Ranger McCormick had always wanted to be a soldier.
"He also thought that he might become a teacher after 22 years of military service. He was also a talented musician and played the clarinet."
His mother, Margaret, had just completed an appeal for Christmas boxes to send troops serving in Afghanistan when he was killed. She did so because her son told her some soldiers got nothing while away on tour.
At the time of his death, his colleagues said he was the "epitome of the Irish infantry soldier".
Lt Col Colin Weir, commanding officer of the 1st Battalion, the Royal Irish Regiment, said: "Ranger Aaron McCormick was the epitome of the Irish infantry soldier - tough, selfless, good-humoured and full of compassion."